The story behind the idea
Memory books, keepsake journals.. whatever you want to call them — I first learned about them a few years ago when my sister received a completed one from our mom and dad for Christmas. 🎄 She had given it to them to fill out a while before that. I instantly wanted to capture the thoughts and memories of my parents also while they were still with us.
So in my excitement, I went out and found my own memory journals to give them. Let's just say their response was less than enthused. 😆
You see, Mom and Dad had just received more memory books from my other sister, and were already feeling the burden of filling them out. I imagine when they looked at them, the books would transform into an iron ball and chain in front of their eyes, like a scene out of a cartoon. What was supposed to be a blessing to the next generation had become a curse to the current one.
Over a year and a half later, I called my mom. "Hey Mom, how are those memory books coming along?" "Oh.. you know, we haven't started on them. I was planning on filling them out, but then we moved, and I kinda forgot about them."
It was then that Most Sincerely was born.
They say the answer to How to eat an elephant is "one bite at a time." Answering a single question by email is something easy that anybody can do and working on it in small chunks makes it actually fun to fill out. The email's arrival would also automatically remind my parents to fill it out, saving me from having to nag them.
So don't be a nag.
Don't give a curse.

Give Most Sincerely instead! ❤️ 🎁 ❤️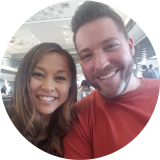 Joel Wigton
Founder